My Yoga Journey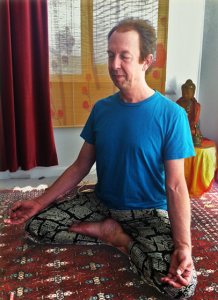 I started exploring yoga at the age of 19 while working at the Kosmos, a meditation center in Amsterdam. This was long before fancy mats and yoga clothing! During an extended stay in India in my early twenties I first discovered the benefits of a daily yoga practice.
When I arrived in the US in the early eighties I started studying yoga in earnest. Glen Kanawa at the Silent Dance Center in Honolulu, Gayna Uransky at Heartwood Institute and Jaki Nett in San Francisco were all major influences.
When I choose to get certified it was important for me to integrate my knowledge of Chi Kung, Do-In and bodywork in my yoga classes. This is what attracted me to study and get certified with Joseph Lapage as an integrative yoga teacher.
The biggest growth in my personal practice came from an injury that prevented me from taking classes for almost two years. It opened me up to a dedicated and varied personal practice, getting still enough every day to discover what my body truly needed. I consider this advanced yoga.
It also expanded my ability to work with people's very individual needs and has provided me the necessary empathy to do so. I started adding restorative as well as Yin yoga to my repertoire. Recently I completed a year long immersion with Harvey Deutch, with an emphasis on functional anatomy and therapeutic yoga.
I teach regularly to groups and corporations. I especially enjoy working privately in my home studio, designing individually tailored practice sessions. Please feel free to contact me to discuss your unique needs.
See you on the mat!
Public Classes
Prime Time Athletic Club
Colony Club, Ritz Carlton, Half Moon Bay
Enso, Half Moon Bay
Corporate
Orrick LLP San Francisco
Orrick LLP Menlo Park
Previous Engagements
Sunshine Massage School, Chiang Mai, Thailand
Evolve
Hanuman
San Mateo Yoga Wellness
I Am Yoga
Change of the Peninsula
Berkeley Patients Group