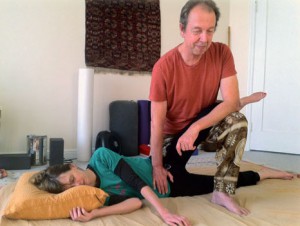 As a member of the faculty of the World School of Massage, I occasionally conduct courses in Thai Massage as well as guided imagery for the bodyworker.The School has been serving the Bay area for over 20 years and can be contacted at 415-22l-2533 for information, a visit or a free brochure.
It is located at:
401 32nd Avenue in San Francisco. Please feel free to contact me if you want to sponsor a class at your school or organization.
Private Instruction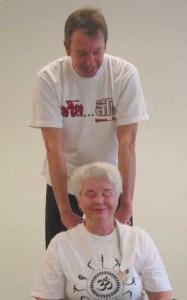 Increasingly some people have opted for one-on-one Thai Massage instruction. This is
especially recommended for those that have already studied Thai Massage and now want to perfect their technique or add some unique movements. Conversely, a private session is also very suitable for someone who practices other floor modalities (such as Shiatsu) and simply want to add some interesting stretches to their work, without studying the entire form. It is best to bring a friend along as a practice model, otherwise I can invite someone. During private instruction a lot can be learned even in one session. Call for further info or to discuss your individual needs.